BGD 514 Multifunction Glossmeter is developed for foreign market . It has many characteristics such as precise measurement, powerful function, stable performance, easy operation etc.
Features:
◆ Conform Standards:ISO 2813、ISO 7668、ASTM D 523、ASTM D 2457、DIN 67 530、JIS Z 8741、BS 3900、BS 6161 etc.
◆ Calibration Automatically:When turn on the glossmeter, it will measure standard board automatically and finish calibration.
◆ Specially designed scroll wheel is easy to use, let the operator enter quickly different operation menu.
◆ Intelligent USB Interface:Use standard Mini-USB, no need to install any software. Measurement data is stored automatically with Excel format , and also can be transferred to computer or mobile phone at any time. Easy to use and very convenient.
◆ With data storage and querying functions:Super capacity for data storage space, can store one million groups data, and can store for decade
◆ Multifunction:Can set any measuring times for one sample and calculate its average value, set auto shut-off time, buzzer etc.
◆ Multilingual:Chinese, English, Arabic, Portuguese, Spanish, Russian, French
◆ Many measuring angle modes for choose:Single angle measuring mode(20º or 60 ºor 85 º)and multi angle measuring mode(20º& 60 ºor 60 º & 85 ºor 20º、60 º、85 º);
◆ Ultra-low power consumption:One AA alkaline battery can measure continuously for more than 20,000 times.
◆ Come with calibration certificate.
◆ After service:One year warranty and lifelong maintenance.
BGD 514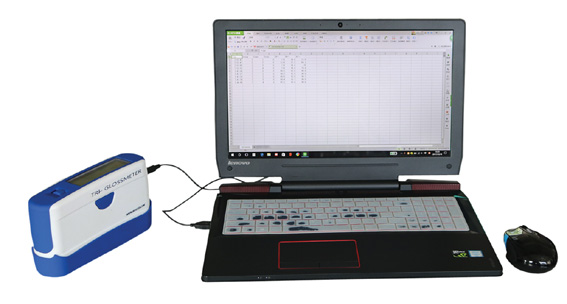 ■ Measuring Range:
20° : 0~2,000GU
60° : 0~1,000GU
85° : 0~160GU
■ Accuracy:≤ ±1.2GU
■ Zero Error:≤ 0.1 GU
■ Stability:≤ 0.2 GU/30min
■ Annual Variation of standard board:≤ ±0.5 GU
■ Measuring Area:20º:8.5mm×10mm; 60 º:16mm×10mm ; 85 º: 35mm×5mm
■ Power Supply:One 1.5V aa alkaline battery
■ Dimension:155mm×48mm×85mm(including holder, L×W×H)
■ Weight:350g
■ Ordering Information:
BGD 514 /1---Multifunction Glossmeter(60°)
BGD 514 /3---Multifunction Tri-Glossmeter(20°/60°/85°)