BGD 559 Multi-Angle Spectrophotometer provides accurate and consistent color measurement for metalllics, pearlescents and other complex special effect finished products. It adopts industrial-grade MCU and is equipped with 5 measuring angles. Under the superior performance of the optical measurement system, the instrument has excellent performance in multi-angle chromatic aberration measurement, even in the curved surface, but also has a high measurement accuracy and stability.
Features
◆ Multi-angle measurement: Adopt 5 illumination sources, 1 receivers to measure 5 measurement angles at the same time.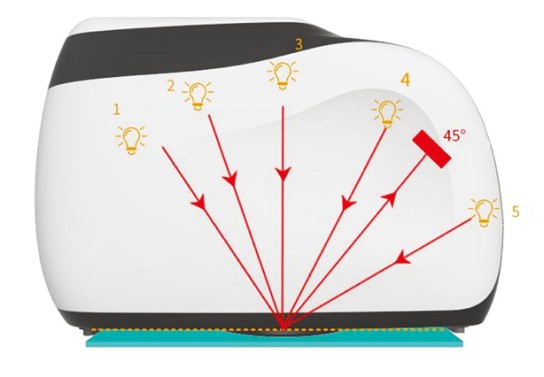 ◆ More intuitive display: Touch screen can display all angle measurement results, more intuitive view of the comprehensive data.
◆ 256 Image Element Double Array CMOS Image Sensor: The higher optical resolution ensures the measuring speed, accuracy, stability and consistency of the instrument. The core technology makes it as the same platform with international standards and complete compatibility.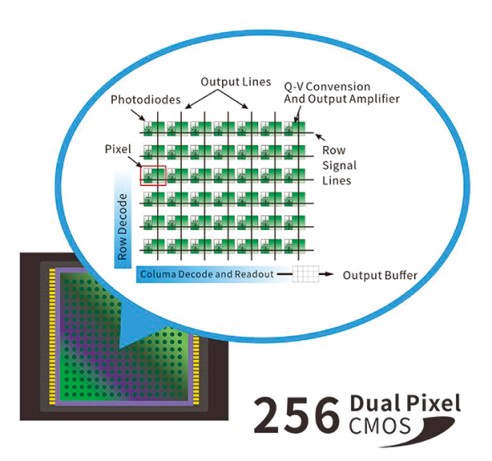 ◆ Full spectrum LED light source with blue enhancement: It ensures sufficient spectral distribution in the visible light range, avoids the spectral loss of LED in a specific band, and ensures the accuracy of instrument measurement results and low cost maintenance.
◆ Concave grating spectrophotometric technology: Higher resolution and more accurate color measurement.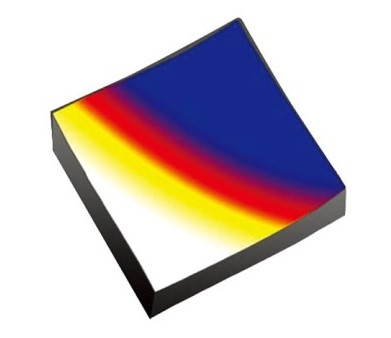 ◆ Professional-grade white board: High hardness in the surface, stable optical performance.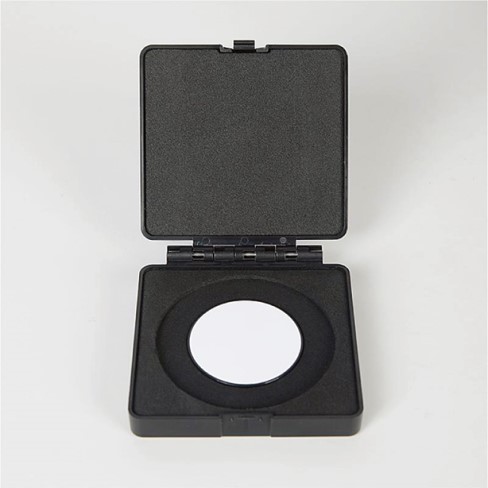 ◆ Higher quality: Industrial grade real-time processing MCU, Bluetooth 5.0 transferring more stable and reliable.
◆ Ergonomics Novel and fashionable appearance design: The instrument is easy to operate, and the hand holding position and the measurement button are well-designed, which can meet different holding habits, smooth and fine surface, from the high-precision appearance treatment process.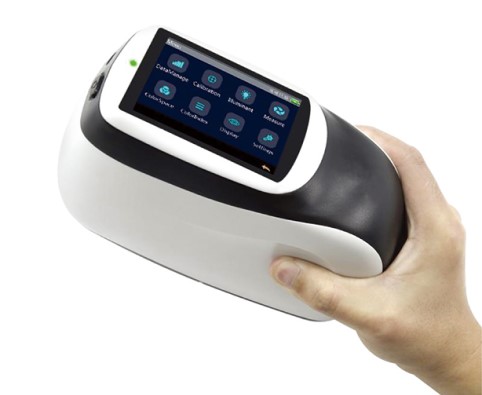 ◆ Built-in color camera positioning, can accurately judge the object measured position, and improve the measurement efficiency and accuracy.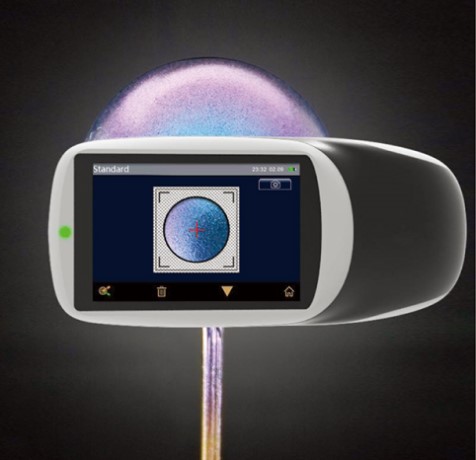 ◆ Multiple color measurement space, multiple observation light sources, which can meet the special measurement demand under different measurement conditions.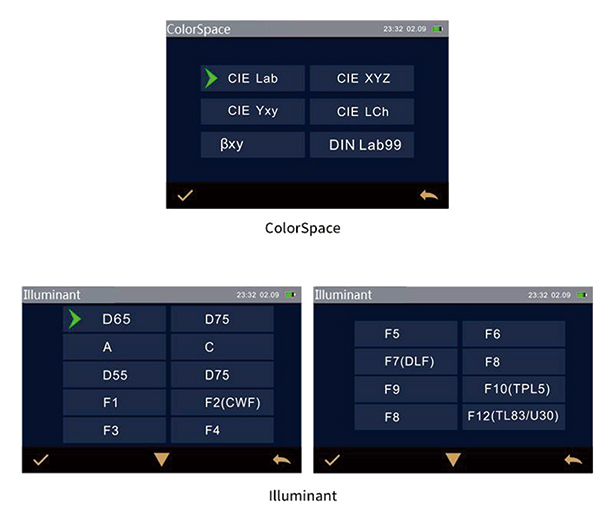 ◆ Easily analyze data: The screen can intuitively display spectrum/data, sample chromaticity value, color difference value/figure, pass/fail results, color simulation, sample effect value, effect difference value and other data, convenient to view while also greatly improve the user's work efficiency.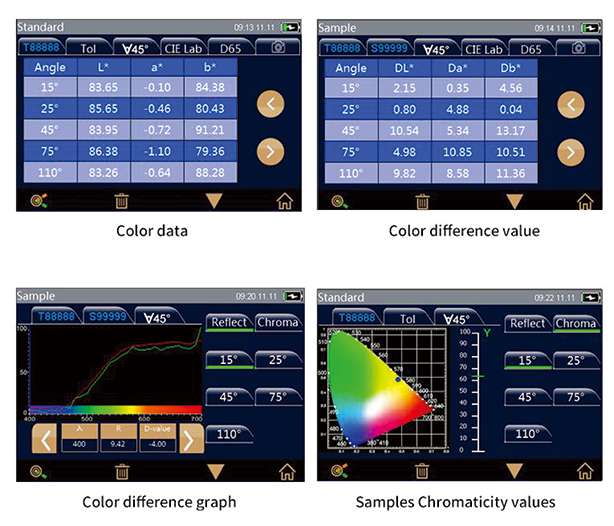 ◆ Conform to standards: ASTM D2244, E308, E1164, E2194, E2539; DIN 5033, 5036, 6174, 6175-1, 6175-2; ISO 7724, 11664-4; SAE J 1545
Main Technical Parameters
■ Measure Angle: 45° Receiver, 45 as 15°, 45 as 25°, 45 as 45°, 45 as 75°, 45 as 110°
■ Light Source: Full spectrum LED light source with blue enhancement, the lifetime can reach 5 years or 3 million measurements.
■ Spectrophotometric Mode: Concave Grating
■ Sensor: 256 Image Element Double Array CMOS Image Sensor
■ Wavelength Range: 400nm-700nm
■ Wavelength Interval: 10nm
■ Semiband Width: 10nm
■ Measurement Range: 0~600%
■ Measuring Aperture: Φ12mm
■ Color Space: CIE LAB, XYZ, Yxy, LCh, βxy, DIN Lab99
■ Color Difference Formula: △E*ab, △E*94, △E*cmc(2:1), △E*cmc(1:1), △E*00, DIN△E99, △E DIN6175
■ Observer Angle: 2°/10°
■ Illuminant: D65, A, C, D50, D55, D75, F1, F2(CWF), F3, F4, F5, F6, F7(DLF), F8, F9, F10(TPL5), F11(TL84), F12(TL83/U30)
■ Display: Spectrogram/Values, Samples Chromaticity Values, Color Difference Values/Graph, PASS/FAIL Result, Color Offset
■ Measuring Time: Approx. 1 second for one angle, approx. 5 seconds for all angles
■ Repeatability: Spectral reflectance standard deviation within 0.08%
■ Chromaticity value: ΔE*ab 0.03 (When a white calibration plate is measured 30 times at 5 second intervals after white calibration)
■ Reproducibility: ΔE*<0.10, avg on the gray tile of BCRA tile set; ΔE*<0.25, avg on the color BCRA tile set
■ Inter-instrument Error: 0.2ΔE*00 (avg on reference Series II BCRA tile set)
■ Trigger Mode: Pressure sensing trigger, button trigger, software trigger
■ Measuring Mode: Single measurement, average measurement (1-99), continuous measurement (1-99)
■ Locating Mode: Color camera preview
■ Power: Lithium-ion battery, 3.7V, 3200mAh, Continuous test 6000 times within 8 hours of full charge
■ Display: 3.5-inch TFT color LCD, Capacitive Touch Screen
■ Interface: USB, Bluetooth 5.0
■ Data Storage: 1000 pcs Standards, 4000 pcs Samples
■ Language: Simplified Chinese, Traditional Chinese, English
■ Calibration: Built-in white board parameters, external white board, black light trap
■ Calibration Interval: 4 hours, 8 hours, 24 hours, Startup calibration
■ Dimension: 195mm×83mm×128mm(W×D×H)
■ Net Weight: About 1Kg
■ Standard Accessories: Power Adapter, USB Cable, User Guide, PC Software(download from the official website), Calibration Board, Black Light Trap, Protective Cap, Wristband
■ Optional Accessory: Micro-printer
■ Ordering Information:
BGD 559/3---Tri-Angle Spectrophotometer(25°/45°/110°)
BGD 559/5---Five-Angle Spectrophotometer(15º/25º/45º/75º/110º)