This instrument offers an easy method for the determination of film hardness for coating applied to a flat substrate. The pencil lead, prepared beforehand by rubbing it on fine abrasive paper(400),is maintained at an angle of 45º and pushed with uniform pressure onto the sample, either leaving a superficial trace or causing destruction down to the substrate. It complies with the requirements of ASTM D 3363, ISO 15184.
Main Technical Parameters
■ Three points are touched on the tested surface(roller、pencil lead)
■ The angle between pencil and the tested surface: 45°
■ Built-in spirit bubble, convenient to check level when tester is working
■ Pressure of pencil tip:500g/750g/765g/1000g
■ Packing List:

① Pencil Tester, Body
② 1 Set of Pencils (12) :-4B-3B-2B-B-HB-H-2H-3H-4H-5H-6H.
③ Special Pencil Sharpener
④ Abrasive Paper, 400 grade grit.
⑤ Calibration Certificate
■ Ordering Information:
BGD 506/1---- Pencil Hardness Tester(500g)
BGD 506/2---- Pencil Hardness Tester (750g/7.35N±0.1N)

BGD 506/3---- Pencil Hardness Tester (1000g)
BGD 506/4----Pencil Hardness Tester (7.5N±0.1N/765g)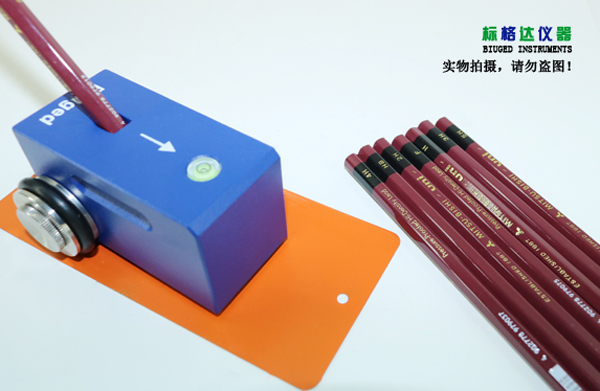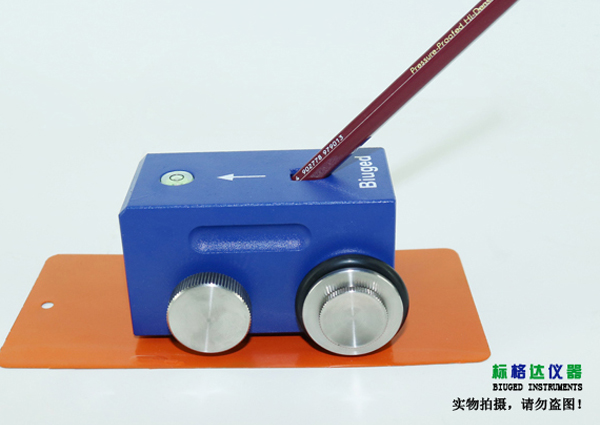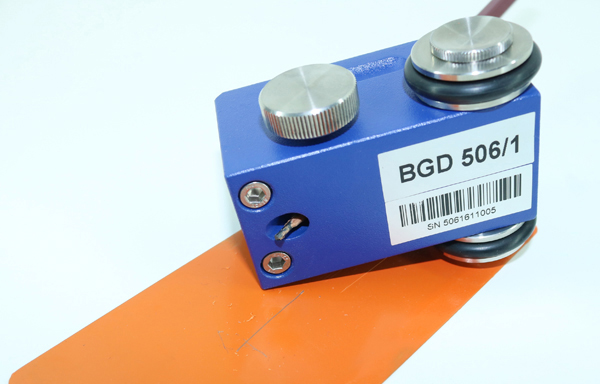 MITSUBISHI PENCIL

Used to test the film hardness specially,have 17 grades from 6B-9H
■ Ordering Information:
UNI----A set of Mitsubishi Pencil(17 pcs/set)6B-5B-4B-3B-2B-B-HB-F-H-2H-3H-4H-5H-6H-7H-8H-9H