BGD 748 Handheld Homogenizer is a high speed dispersing instrument. It is based on the Rotor/Stator Technology. The shaft and rotor/stator can be disassembled for easy cleaning. You will receive the dispersing tools completely assembled for immediate use with your dispenser. This product is for laboratory use only and is used in mainly in biotechnology and human andveterinary medicine and clinical medicine and is suitable among other application for disruption of cells.
The drive unit can be used, based on the dispersing shaft used for volumes from 0.1ml to 50ml with the 5mm shaft or from 1ml to 250ml with the10mm shafts.
Features
◆ Ideal for manual operation due to its light weight and ergonomic design
◆ Processing range: 0.1-50ml or 1-250ml
◆ 316L stainless steel shafts are fully autoclavable and inert for highly corrosive solutions
◆ All shafts are interchangeable for easy dismantling and cleaning.
◆ 10 modes of motor speed from 8,000 to 30,000 rpm
Main Technical Parameters:
■ Voltage:220V~240V/50Hz~60Hz or 110V~120V/50Hz~60Hz
■ Motor Type(Universal motor):160W/AC carbon brush motor
■ Speed Range:8,000~32,000 r.p.m
■ Max. Circum. Speed:(6.3~14)m /sec
■ Speed Control Dial knob:10 stage
■ Working Volume:0.1ml~50ml for BGD 748/1;1.0ml~250ml for BGD 748/2
■ Weight:0.54 KG
■ Noise:72 dB(A)
■ Max. Viscosity:5,000mPa.s
■ Material of Dispersing Shaft:SS 316L stainless steel, PTEE
■ Operating Environment:0°C - 40°C,85% relative humidity
■ Protection Class:IP20
■ Dimensions:45mm x 55mm x 190mm
■ Ordering Information:

BGD 748/1---Handheld Homogenizer(includes a BGD 748 drive, a H Stand and a BGD 1446 dispersing shaft 5mm)
BGD 748/2---Handheld Homogenizer(includes a BGD 748 drive, a H Stand and a BGD 1447 dispersing shaft 10mm)
Optional Accessories
BGD 1446---Dispersing shaft 5mm,for solid/liquid media and volumes from 0.1-50ml
BGD 1447---Dispersing shaft 10mm, for solid/liquid media and volumes from 1- 250ml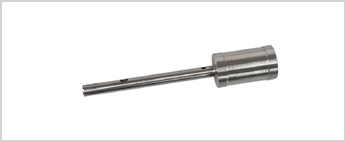 BGD 1446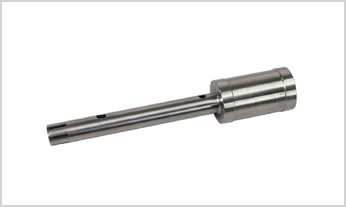 BGD 1447