Programmable Touch-screen Viscometers with Temperature Control combine viscosity measurement and temperature control in one machine. It break the current way to measure viscosity which need use thermostatic bath, viscometer and small amount sample adapter separately.
Measuring sample's viscosity change under different conditions is very useful for estimating its rheological behavior, while controlling sample temperature precisely is helpful for getting an accurate and comparable test result.The most obvious advantage of this machine is controlling sample temperature precisely during the whole test. Its temperature controlling system consists of semiconductor and a built-in automatic optimization progamme of temperature control. The temperature controlling precision can reach ±0.1℃. Operator can control sample temperature not only by machine, but also by optional software, has a excellent flexible operation.
◆ Consists of 7 inch wide touch screen viscometer, small amount sample adapter(SSR), cylindrical sample sleeve and SC4 rotor, tempeater controller.
◆ BGD 157 can display shear rate and shear stress, can fulfil a precise measurement under a certain shear rate.
◆ Only need 2ml~16ml sample,the cylindrical structure of SC4 rotor can offer a precise viscosity measurement
◆ Electrical lifting and presice location, SSR is easy assembly and disassembly, convenient to clean.
◆ SSR fits temperature controller closely, can ensure a precise constant temperature to sample.
◆ Small amount sample, rotor stir action can minimize the non-uniformity of sample temperature, shorten greatly sample hydrothermal time.
The other features of Viscometer is same as Programmable Touch-screen Viscometer.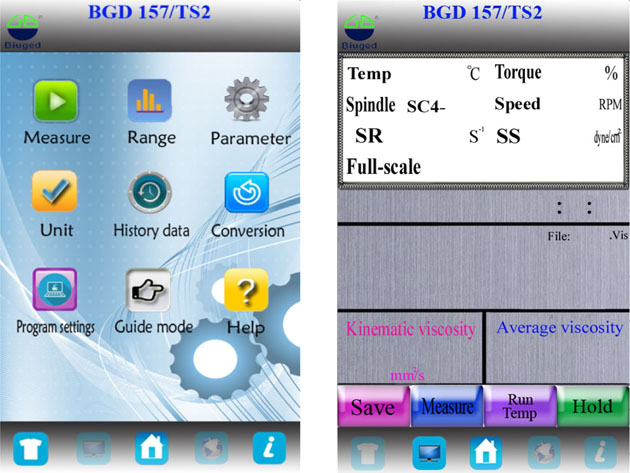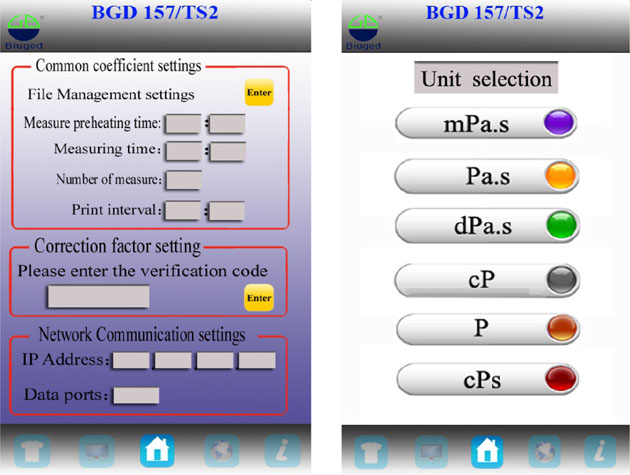 THD Series----Low Temperature Thermostatic Bath
BGD 1600----Standard Oil(500ml)
BGD 1601----Low Viscosity Adapter(The 0th rotor and can measure 1.0 mPa.s sample)
BGD 1602----Small Sample Adapter(It's specially designed for customers with small samples and requires only a quantity as small as 5~18ml;Sample cup is easily cleaned, installed, removed, and observed;Accurate data of shear rate and shear stress can be obtained for a minute analysis of the fluid characteristics of the sample;One-off sample cups are available)
BGD 1603----Mini Single Color Printer
BGD 1604----RTD Thermometer(-20℃~120℃)
BGD 1605----Thermoses(It has been designed to accurately measure the viscosity of heated oil, paraffin, asphalt emulsions, medicine, high polymer and similar liquid materials at high temperatures. It allows control of a sample's temperature at a range of room temperature +300℃. It can program the intelligent thermostat and ensures its temperature fluctuation within 0.1℃. Sample dosage is as small as 10ml, and one-off sample cups are available. Standard type of SC4 spindle can be applied, which is easy to use)
BGD 1606---- BGD 156-157-158 Viscometer program control and off-line software(Can download computer control program to viscometer and run it off-line. Suggest use it together with BGD 1603 Mini Single Color Printer)
BGD 1608----BGD 156-157-158 Viscometer data collection and programmed analysis software(Automated data collection and testing; resulting in viscometer graph, and recording measuring data each time;Allowing comparison of at most 10 history data;Output Excel documents;Programmable downloading, Offline working;Analyses data, draw charts and print)